How to Rehydrate a Horse: Guide to Equine Dehydration
finity
As with humans, dehydration in horses can be deadly, and electrolytes for horses are just as important as they are for us. A lack of water will quickly result in your steed heading toward dangerous territory.
Rehydration is a crucial skill for any veterinarian, rider, or horse owner. Therefore, this blog will break down all you need to know about equine rehydration. From the causes of dehydration, to the necessity of electrolytes in the body, to methods of rehydration, we touch on it all.
What does it meant for a horse to be dehydrated?
Water is indisputably the most important part of a horse's diet, an essential vehicle for all the minerals a horse's body needs to keep going. In fact, a horse's bodyweight is comprised of up to 75% pure water, so even the slightest hint of dehydration can exhibit negative effects very quickly.
The average horse (around 500kg) will consume about 25 litres of water per day, not accounting for high temperatures or a heavy workload. Horses are designed to lose heat through sweat, and their bodies do this with great efficiency, which is why they need to consume so much water. How your horse gets this water depends primarily on how you feed him.
For example, while fresh grass is about 80% water, hay is only about 15-20% water, so additional drinking water is needed for a horse on a hay diet. Regardless of the horse's diet, there should always be extra drinking water on hand to avoid dehydration.
The real risk comes when horses begin doing strenuous work, or when temperatures rise, as this will as much as quadruple their water needs. This is also true for lactating mares, who lose more water through their milk and require extra to stay hydrated.
Electrolytes and Their Role in the Equine Body
When a horse sweats, they lose both water and electrolytes (body salts), which are crucial to maintaining the acid-base balance. A lack of alkaline salts can result in everything from slight stiffness to acute muscle spasms, and long-term electrolyte deficiencies will deprive the musculoskeletal system of the necessary ingredients to repair itself.
On hot days or heavy workdays, it's wise to add an animal food supplement onto the usual amount of salt your horse consumes. This helps them to consume enough electrolytes to compensate for what they have lost.
Ways to Rehydrate a Horse in Your Care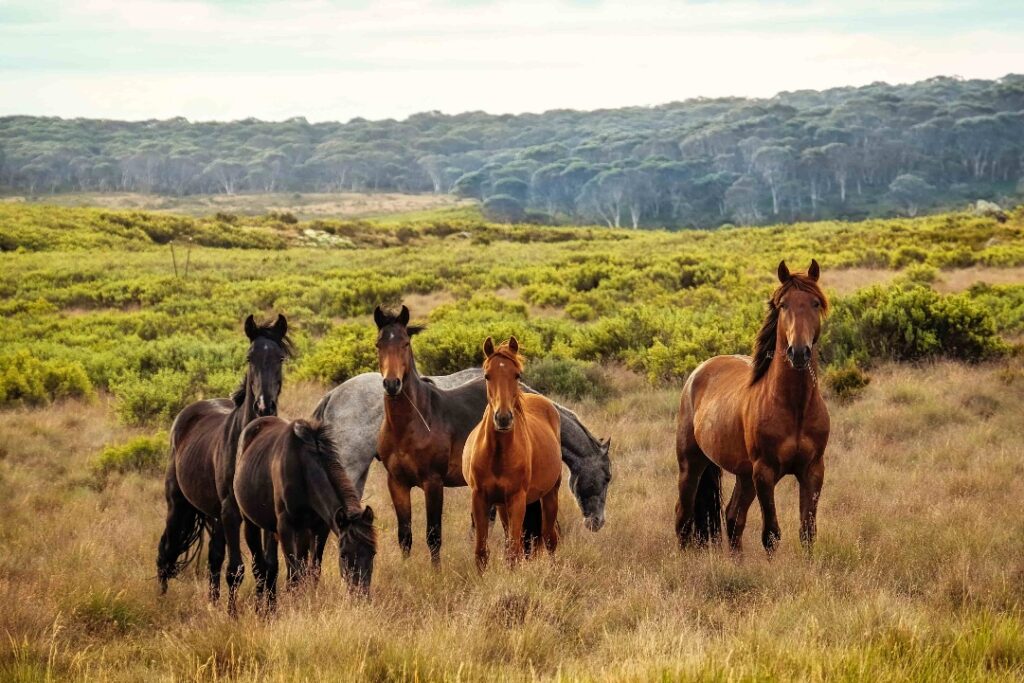 Rehydrating a horse begins by understanding the signs of dehydration. Even if your horse isn't a heavy sweater, their panting can result in a significant amount of sweat and electrolytes being lost via evaporation from the lungs. Therefore, it's crucial to always have fresh drinking water available, and to be on the lookout for your horse's health on warm or strenuous days.
Some signs of equine dehydration include:
Poor concentration or performance. Whether they're a jumping horse or a racing horse, if you're noticing a lack of performance in your animal, it's best to check them for dehydration.
Lethargy or depression. A reluctance to go for a ride, follow commands, or even stand up can be signs of lethargy. If these are showing up after a warm day or a tough session, this is particularly likely to be dehydration.
Dry, white gums. If your horse hasn't had enough water, their gums will by dry and tacky, and the capillaries will be slow to refill (leaving them pale).
How to rehydrate your horse
Rehydrating a dehydrated horse simply by offering more water is not the solution. The water will dilute the body fluids in the surrounding tissues, eliminating the horse's sense of thirst and stopping them from drinking anymore. This also fails to rebalance any minerals or electrolytes lost from heavy sweating.
Therefore, it's best to use a combination of two supplements to bring them back to rights.
Use a balancer placed in their hard feed to restore a healthy mineral concentration in their blood. General-purpose balancers offer an all-around boost to your horse's diet, making sure all the necessary minerals for them to be healthy are restored (along with giving them a good feed).
Supplement their electrolytes with an electrolyte supplement for horses, most of which can be dissolved in their water or food. Make sure you have both electrolyte and plain water on hand, as your horse may shy away from the different taste if they're not used to it. If they do, try adding it to some wet feed instead. Electrolyte syringes are another option, but these should only be used with great care, and only on days where strenuous work is guaranteed (i.e. competition days).
There you have it! A full breakdown of horse rehydration and some products that will help you to rectify it quickly. Now that summer is coming around, make sure to watch your horses carefully as the temperatures start rising. Beyond that, happy riding!
Browse Ethical Agent's online collection of veterinary supplies in NZ
From electrolyte supplements for horses to general-purpose disinfectant, we stock all the veterinary supplies NZ clinics may need to care for the patients in their purview. Simply browse our range of products today or reach out if you have any queries about our selection.